FaultFixers for Non-Profits
Focused Living is a not for profit company providing holistic support and accommodation to vulnerable homeless adults. The team at Focused Living were managing 13 properties and hundreds of maintenance requests and needed a simple way to keep track of everything.
FOCUSED LIVING
LONDON HOMELESSNESS
We are a company based in London that understands the struggles of living in a high pressured and high-cost city that can be unforgiving and a lonely place at the best of times.
Unforeseen circumstances can befall us all and homelessness is a real issue that many people are going through. We offer our service by providing a safe home to live in and provide the needed support to take control of their lives and get back up on their feet.
THE CHALLENGE
The Focused Living team relied on emails and phone calls to manage their entire maintenance teams across 13 properties; from reporting repairs to scheduling regular fire safety checks.
The team were searching for an easy-to-use, all-in-one system that could track all their requests and notify the right person at the right time without the risk of important information getting lost on emails and phone calls.
THE IMPACT
The busy support workers could easily access the intuitive and simple app on the go. The maintenance team could see all the tickets raised by the support workers first thing in the morning, rather than dealing with out-of-hours phone calls or messy inboxes.
71 tickets raised a month
14 hour average pick-up time
5 day ticket turnaround
"I run the day-to-day repairs, so what I tend to do is come in first thing open up FaultFixers and have a look at all the jobs raised overnight. It's helped out so much. All the jobs raised out of hours or by our support workers can be done via the FaultFixers app with a picture. It comes into us and we have a clearer idea of what the issue is."
MAINTENANCE SOFTWARE FOR CHARITIES
Streamlined Maintenance Management
The previous process was disjointed and inefficient, with information getting lost throughout. There was no ability to follow up or track tickets. Now with FaultFixers, records of tickets and key documents like fire and gas safety certificates can be stored and accessed easily.
Each ticket can also include images, signatures and even videos, providing the team with more information, which can then be quickly assigned to team members.
DETAILS
A safe environment for the vulnerable
Focused Living provides stable accommodation for the homeless. With the safety and wellbeing of their residents a priority, FaultFixers enabled them to focus on supporting their residents get back on their feet with the FaultFixers maintenance software for charities.
Find out more about how Maintenance Management Software for Charities can help you and your charity.
CASE STUDY
Download the full Focused Living Case Study
Get our free care home case study with Focused Living. Get insights into how Focused Living has used FaultFixers to provide a safe and comfortable environment for vulnerable adults.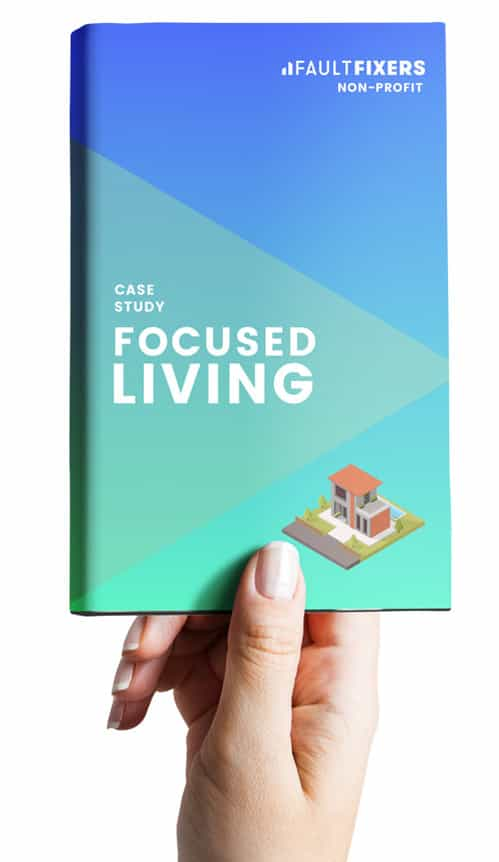 What our other customers say
We've been using FaultFixers for over a year now and it's done wonders for our operations. There are approx. 150 Nursing Staff who can now report issues to me and my team with ease and before they become more serious issues.
With 7 sites, it's helped us to operate more dynamically, and now if we need multiple facilities staff at one site on any given day, FaultFixers helps us to manage and organise this in a central way. It means we can respond to patients quicker and save costs on inefficiently running our sites.
We had a CQC inspection back in November 2018, and FaultFixers was directly beneficial to responding to the Inspection Team. It has led to us improving our performance rating in the 'Well Led' inspection area from 'Good' to 'Outstanding' which we're of course immensely proud of.